Available in 250ml, 500ml and 1,000ml bottles with pump.
We have adapted our production capabilities and with the input of our laboratory staff, we have the ability to manufacture a limited supply of AddXeco Hand Sanitiser.
AddXeco Hand sanitiser contains 70% alcohol that is 99,9% effective against germs, bacteria.
If we can all wash our hands at least 5-10 times per day we will reduce all infections by up to 80%.
Soap and water is not always a viable and readily available option and an alcohol-based sanitiser will effectively kill all germs.
We have identified that we will have a need for personal hygiene not only in the days and weeks to come but the years ahead.
Our AddXeco hand sanitiser is manufactured in Belfast to the highest quality specifications.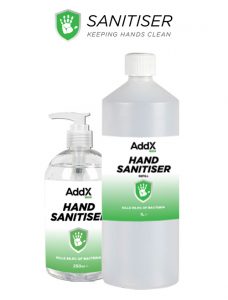 AddXeco hand sanitisers are suitable for
Family home

Schools

Public offices

Hospitals

Shops

Factories (Including food preparation facilities)

Sports Clubs

Restaurants and pubs
WE must ALL do our part to make NI & Ireland a safer environment.
Please contact us directly and we will do our very best to have stock delivered to you as soon as possible.
All prices are exclusive of VAT
A small delivery charge may apply however we will do our best at all times
PLEASE NOTE:
Currently, we are experiencing overwhelming demand and we are manufacturing a fast as possible relying on supply the supply chain.
We do have stock in production.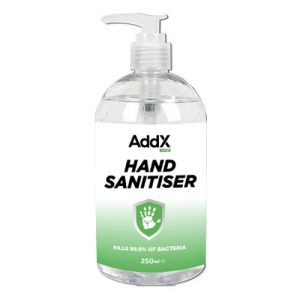 Add 250ml hand sanitiser to cart